If you are a regular reader of our blog, you know that this post is the third one related to the same topic: Edtech startups. The first post showed a list of startups linked to education and technology that received significant funding between 2014 and mid-2015. The second post focused on startups that received funding between the end of 2015 and April 2016.
During these months, the news about new investments in educational technology startups have not stopped. Degreed (B Series: 25 Million),  EverFi (40 Millions, from investors such as Jeff Bezos or Eric Schimidt) or Matific (A Series: 45 Millions). What's more, Techcrunch wrote in August that "Edtech is the next fintech" noting that "Edtech is poised to be the biggest and possibly most profitable digitalized sector yet."
But… what happens in Spain?
In Spain, most of the entrepreneurial initiatives focus on e-commerce, tourism, traveling and leisure, but there are also some examples of companies that are determined to reinvent education and make the most of a market that has still a very high growth potential.
The list of startups that you will see next, aims to collect the entrepreneurial initiatives of the edtech sector established in Spain that were founded less than 4 years ago and which are working as a startup (there are some companies that cannot be considered as such).
You will see that there are some companies older than 4 years. We believe that because of their relevance in the sector, deserve to be listed here.
We want this collection of startups to best reflect the reality in Spain. It is for that reason that if you know or if you are a partner in an edtech company, send me an email and we will add it if it meets the requirements.
Startup, year and founding site.
Description

Crunchbase reference

Sharing Academy (2015 | Barcelona)
A platform where university students can help other students by offering private lessons.

 

Leaders University (2015 | Barcelona)
Short courses in video format about specific subjects taught by recognized experts.
Schooltivity (2015 | Alicante)
Communications and center management for teachers to inform kindergarten, primary school and high school parents.
Snackson (2015 | Barcelona)
Educational app based on microlearning and gamification for corporate and professional clients.
myABCKit (2015 | Barcelona)
Learn languages through games, a customized solution for children between 3 and 7 years.
Tutellus (2014 | Madrid)
A collaborative learning platform through videos.

Tap Tap Tales (2014 | Barcelona)
Educational apps for kindergarten based on popular characters: Hello Kitty, Caillou, The Smurfs…

Wuolah (2014 | Sevilla)
Platform to share notes and monetize them, aimed at university students.
Skoolpoint (2014 | Barcelona)
Free online platform for educational centers that makes the communication between the school and parents easier.

 

Lingokids (Monkimun) (2014 | Barcelona)
English learning app for kids aged 2-6, with adaptive learning technology.

EDpuzzle (2014 | Barcelona – Actualmente en PaloAlto)
Tool to edit videos. You can add questions along the video and assess learners interaction, aimed at teachers.

Pentagrom (2014 | Madrid)
App to learn music in an easy and visual way, with its own specific methodology, both to personal use and music schools.
Homuork (2013 | Barcelona)
Platform to create MOOC courses for companies and professionals.

Lilymedia (2013 | Barcelona)

App for children aged 2-7 that includes a data analysis dashboard for parents.

Milingual (2013 | Madrid)
English classes in a group, at bars.
Creappcuentos (2013 | Vigo)
A mobile app that allows creating tales or stories for kindergarten and primary school kids.

Edúkame (2013 | Barcelona)
This is a web for fathers and mothers where they can find information, guides and materials they can use to help their kids (aged 0-6).

Mi cuento (2013 | Barcelona)
Publishing house that makes customized stories for children studying at kindergarten and primary school.

Atta Community (2012 | Barcelona)
Gamification solution for working teams.

KlassData (2012 | Madrid)

Learning Analytics tool for LMS (Moodle, Blackboard…)

Infantium (2012 | Barcelona)
Adaptive learning platform for kids up to 6 years old.

Gamelearn (2008 | Madrid)
E-learning platform for corporate training. Serious games and simulators dedicated to training in management skills within the company.

Abba English (2007 | Barcelona)
Learn English through a specific methodology. Both for private use and for companies.

NEWSKID
(2015 | Barcelona)
Adventure stories for children. Available on different platforms, it uses technologies such as augmented reality to involve children (aged 8-12) in the news.
Classgap
(2014 | Barcelona)
Platform to find a teacher and learn through online private classes.

Cuicui Studios
(2011 | Gijón)
Development and creation of educational video games for mobile platforms.
Remember, if you know a startup of the education sector or if you are the founder of one of them that has to do with educational technology, send us the details and we'll add it to the list.
Edtech: education & technology. Rock & Roll! 😀
---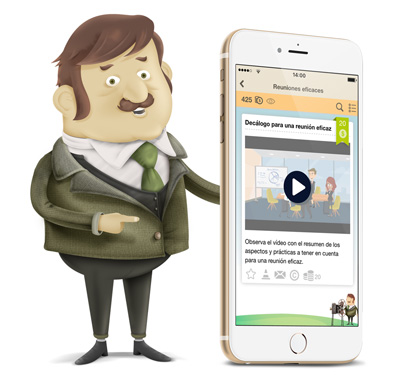 Post translated by Carolina Serna