A few days ago we participated in a meeting with one of Snackson's clients in which the training managers from all areas of the business were present. It's a multinational business with a complex structure, numerous training requirements, a need for constant updates to their processes and products, and that already has various management environments in place.
The objective of the meeting was to carry out a training session about Snackson so that they could better understand how it operates and so that we could explain our MMG methodology (microlearning + mobile device + gamification) in order to obtain the maximum results and open a debate to evaluate which was the best way to integrate our training approach into their organization.
Over the last year we've attended dozens of similar meetings in which we meet with human resources and talent managers, commercial directors or directors of operations and they address potential doubts, possibilities for collaborations and issues that we can work on together.
What kind of questions to the managers of an organization have when they approach a solution like ours?
If you don't know about Snackson yet, lend me a minute of your time to explain who we are and what we do. That way it'll be easier to understand the points to follow.
Snackson is a startup born in 2015 with the objective to bring training and education to mobile devices. Our solution facilitates a business or institution (of any size) to carry out training programs and communication with their collaborators, employees or clients, using their smartphones or tablets as a channel.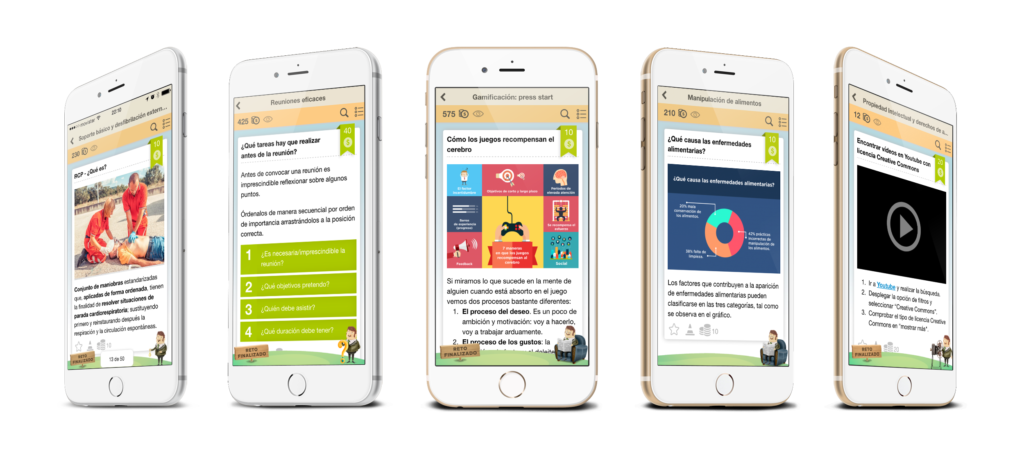 But, as to be expected, the client often sees the advantages of our solution but also presents a few doubts (which seem to be recurring)—I´ll sum up 5 of them:
Who are you guys? Who have you worked for?
Although we've been in the market for a relatively short period of time, at this stage in the game we've acquired enough experience and worked on a sufficient number of projects to set our clients at ease and to show them that they can trust us. We're currently working for businesses such as Roche, Desigual, Seat and the Generalitat de Catalunya (Catalunya's autonomous government).  It's been a challenge, but we have already crossed this first barrier.
I have multiple management environments and I would like the information and the tracking of courses to be more centralized.
This is one of the key topics when you're a startup, you offer a B2B solution, be it for training or another area, and you direct yourself to businesses of a certain size (within in small businesses we directly become their principal tool for training management.) You need to integrate yourself with the client and cross your fingers that their information systems follow certain standard processes.
In our case, Snackson has its own API that is available for clients to use to integrate their data. In 2017 we plan to implement a greater integration (plug and play) with some of the most well-known LMS's.
I don´t know if my users will want to user their own mobile devices if they don´t have a company-issued device.
At the start of Snackson (the last few months of 2015), this was the main reluctancy that we came across. In 2016 we've seen that little by little, businesses have become aware that with adequate organization, the advantages for the employee are much greater than the inconveniences.
By facilitating access by use of smartphones and tablets, users have more freedom to access the information when they want and in the moment that is most convenient for them. In doing so users can better take advantage of their time and optimize the training that they receive. The timing and the extension of BYOD (Bring Your Own Device) work in our favor.
Our training program is very complex. Will it work on a mobile device?
It's true that there are many training activities in which the mobile device is not the most adequate channel, but perhaps the problem isn't the channel, but the methodology.
During the last MWC we attended a panel discussion organized by ESADE about how digital transformation is changing education. One of the key issues that they discussed was the related to how the current models of translation need to evolve and take on a more modular model, more open to the end user and more streamlined.
Let's follow Apple's example: think more about single tracks that could be combined to create a playlist than a pre-defined album that doesn't fit with my specific needs.
Training programs must be designed in individual units that can be combined. They must be easy to produce and access and less geared towards extensive structures and volumes of information that don't actually meet the real needs.
Our organization needs…
Generally speaking, there's always a specific process or particular need that is key for a business, whether it's a specific user registration form, a determined activity or an adjustment to the interface.
One of the advantages of being a startup and having a new product is that you have the ability to be very accepting and responsive to the client's (good) ideas. You write down every idea, you process them, and if they seem interesting you incorporate them in to the roadmap for development. Thanks to this responsibility of active listening we have incorporated a multitude of functions to Snackson that weren't there in the beginning.
Right now I don't have a specific need to apply your solution to.
…This is the observation that tends to be the most complicated to respond to.
The first thing that comes to mind is to yell at the client that they're wrong, that if they take five minutes to think it over, the possibilities and advantages will surely occur to them. That in reality its best to make this change as soon as possible and take a chance on new models (through Snackson or with other solutions) because our society, their employees, collaborators and clients are already using other channels and solutions. Digital transformation is having an impact on education as a whole.
Then you remember other projects that you've worked on with clients and you explain to the potential customer the possibilities so that they can make analogies and see where your product could be relevant to their company: continuous training programs, welcome and orientation plans, commercial support, training processes, test evaluations, supplements to other training programs, and training before special events.
This is the opportunity provided by the little guys: agility, activity listening a simple but powerful model and solutions adapted to the needs of the client.
What other "doubts" have your clients presented to you and how have you guys resolved them?
🙂
---
Post translated by Hope Fletcher