This is a translation from the original post written by Jordi Pizarro on designtraining.cat
There are 2 ways we can see mobile phones: as weapons of mass distraction or as weapons of mass creation. This isn't just my opinion, these are the words of Franc Carreras, teacher at ESADE.
And I would say that he is right, at least when it comes to corporate training.
Mobile phones: weapons of mass creation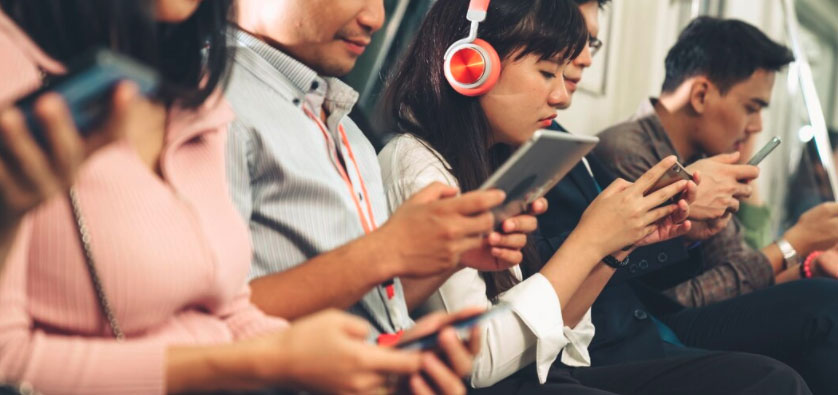 I find it interesting that companies haven't yet fully taken the step towards or don't quite seem to understand that mobile phones, be them personal or provided by the companies themselves, are simply another part of our day to day lives and that they are tools that must be taken advantage of, particularly for learning purposes. Mobile phones have become the first point of access for consuming information and for informal training; we use them daily, at work, constantly connected to the Internet – they allow us to carry out activities that are becoming more and more complex each day.
Using mobile phones for corporate training
Using mobile phones for corporate training doesn't simply mean using them to visualize content, or asking content to be responsive or to contain gamification elements… it's nothing to do with that. Using mobile phones for corporate training means thinking about an instructional design, a learning methodology that works for phones; creating learning tools and making sure they have a thoughtful and interactive design with an appropriate level of gamification that will enable users to acquire knowledge in a natural, dynamic and comfortable way, with only a few minutes a day. Because if one thing is clear, it is the fact that mobile training must be based on microlearning and on challenges that will allow users to interact with others and, most importantly, to learn.
The way we learn has changed.
With the emergence of mobile phones and the applications that go with them, a new paradigm has been created, as well as new developments regarding the ways we acquire knowledge. Think about your children or nephews or anyone under the age of 25. They receive small inputs of information and the way they communicate is also based on small inputs (and that doesn't make them any less intelligent than me or you).
That is the key. We now know that when carrying out an intellectual action, our level of attention is higher in the first 8 minutes, and after 20 minutes our neurons start to tire out. And well, you can imagine what happens after 60 minutes; our ability to pay attention decreases drastically.
With this in mind, do we really understand how mobile phones can be used for corporate training, or are we just saying we'll use them without actually doing it properly? Because of our poorly-planned actions, are we making mobile phones become weapons of mass distraction?
Digital Transformation
I must insist; it seems that Digital Transformation is now one of the basic objectives for businesses and organizations; training should be a part of this and mobile phones should be used as weapons of mass creation as Mr. Carreras suggests.
Businesses, in particular the people responsible for internal training programs, should lose their fear of using mobile phones as another tool for employee training. This does not mean that other training methods aren't also valid; they are and will be for many years to come.  But we must be brave and coherent and take a step forward in order to achieve this Digital Transformation that is so often talked about.
There's a tool
What if I told you there's a tool at your disposal that will help you to create content, plan challenges, obtain follow-up reports of scheduled training activities, and that allows you to export this data to your LMS?  That enables you to instantly update content and re-use it in different challenges, that contain elements of gamification and that follow a pedagogical structure?
What if I told you that content is easy to assimilate and users learn in only 5 minutes a day, whenever they have the chance, by accessing training any time and anywhere?  That this tool can be used before a face-to-face training session, or afterward in order to reinforce content? To welcome new staff, or as a training tool for any relevant internal aspects?
What if I told you that this tool can help your organization create and manage training and content in an autonomous way; that the finalization rate for challenges is over 90% and that there are already many multinational companies using it alongside other more established methods, such as well-known e-learning…?
Snackson – Microlearning
Could you really say this doesn't interest you? Go visit Snackson, it might awaken your interest.