Two weeks ago, in the first part of this post, we explained 5 of the 10 key strategies for the creation of microcontent. If you missed it or don't remember them, click here to read it.
Today we offer you the second part of key strategies. We are sure that if you follow this advice, you'll be able to create the perfect microcontents for your organization.
Let's go!
Developing relevant and catchy microcontents
6. Find the right tone
It's not just about what you say, but how you say it.
Depending on the tone you use to write your courses, you'll cause some specific effects on your learners. It should be somewhere between the amusing and the instructive, the casual and the persuasive, the informal and the educational.
Think of a sound mixer; creating the right tone is a similar task. It is about finding the correct level for each variable: formal, humorous, technical, precise, insistent, authoritative, reflexive, original, simple, intense, cheerful, serious…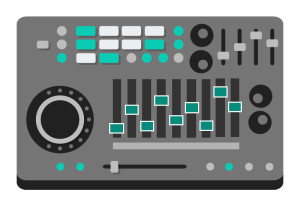 The choice will depend on the type of content that your course covers. For example, explaining technical procedures requires a writing style more concrete and direct than a selling techniques course, in which we can adopt a more informal tone.
Bear in mind that the way in which we express ourselves changes according to the person to which we are directing our message. Isn't it true that you don't speak in the same way when you are with friends and when you attend a work meeting? The same happens in microlearning. The tone you use comes also determined by the recipient of your message.
7. Add a pinch of humor
Including a pinch of humor at the right time is one of the key strategies that can turn a tense situation into a lighter one.
Humor in training makes the explanation of technical concepts easier, at the same time that it prompts your learners to keep participating. A relaxed learner is more able to concentrate and learn than another one who is too much worried about understanding a concept. Take into account that humor helps our minds to relax.
The way in which humor is introduced in content and to whom is it directed. You can resort to options as metaphors or exaggerations that impress your readers and make it easier for them to remember your explanations.
But, be careful! Don't get too carried away by your enthusiasm. Remember that you are designing a course that must educate, do not turn humor into a distraction.
8. Use expressive and emotionally charged words
Words are one of the most powerful tools of which you can make use in order to arouse emotions or even the desire of taking part in something. For this reason, it is necessary that those words are powerful ones, so that the reaction to the incentive results automatically and therefore, is effective.
You: if you address your audience as «you», your contents will quickly adopt a more personal and intimate tone. The learner will feel that you are addressing him in a direct way, as a single entity, individual and concrete.
Relevant: and other words as important, essential, fundamental… will stir up in your learners the certainty that what you are going to say is significant.
Imagine: very useful to attract the attention of your public. With these words, you keep them away from passivity and incite their minds to make the thinking with you.
Other verbs of action: like, for example, "define", "identify", "compare", "choose"…
9. Create dynamic, efficient, and easy to understand titles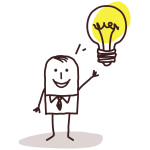 The title is one of the most important elements in a learning object. The ideal title is the one that grabs your reader's attention, arouses their curiosity, and makes them want to learn more. In order to achieve so, your titles:
Must represent the content that follows, be clear.
Should be short. It doesn't mean that they can't evoke emotions. For example, if you write a title in question form, you'll be inciting learners to keep reading because they'll feel the need to know the answer.
Will include keywords which imply cause or benefit: 5 ways to increase the benefits of your company, 3 reasons to…, what is…?, how to…?
10. Make your texts interesting and relevant
The last of the key strategies is to stop trying to complete your content, avoid "the stuffing". This is essential to create microlearning, be as straightforward as possible, avoid unnecessary information.
Enhance the relevance of your content, it will make increase the involvement of learners in the training activity Moreover, don't forget that your public is professionals with lots of work and little time.
You'll be able to keep your student's interest if you make clear what is it that they are going to get from the course and for what is it going to be useful:
Give real facts, use statistics, research findings that prove what you say. In this way, your audience won't doubt for a minute the veracity of what you are transmitting, that you know what you are talking about.
Exemplify what you are explaining with cases that result familiar to learners. Your readers will be able to relate what they are learning to their real life. In this way, they will see the usefulness of what you are illustrating.