A few years ago, in a previous life 😊 we made an infographic showing tips create elearning courses.
It's funny to note the number of stages needed to develop an eLearning content and the variety of profiles it needs.
Let's see the key points to create an elearning course:
Training objectives
Set the training objectives: target audience, reach, format, channel.
Know what interaction model you want. Developing content for Articulate RISE is not the same as developing content for a curse with complex gamification dynamics.
Are you going to produce it internally (with your company's resources), or do you need help? It may be that you want to do most of the resources internally, but that you might need recording equipment, 3D, actors, illustrators, etc. for other resources.
At this stage, the project manager is key, as they will be in charge of coordinating the different sub-stages, searching for resources, and guaranteeing the final result. Usually, the project manager is not the same as the client manager (who has a more commercial approach), as they are different processes.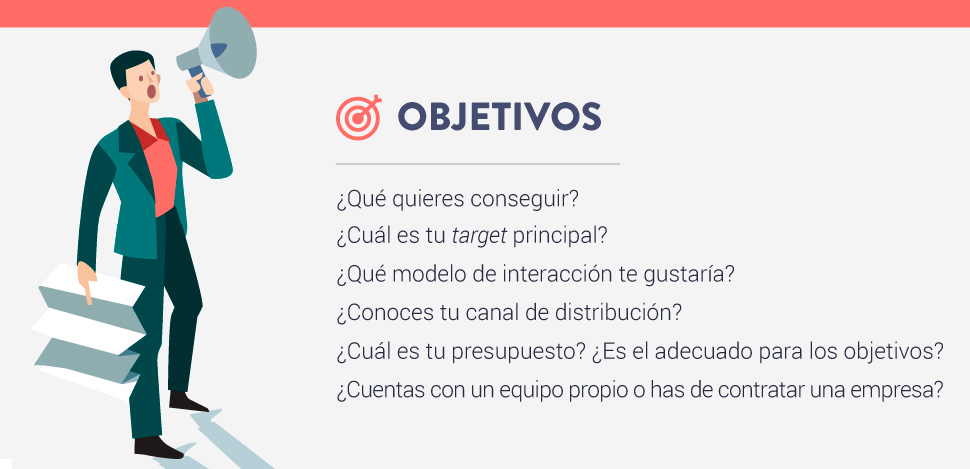 Authorship / script
If you have a script to start from, you will have to transform it into the type of resources you want to develop.
If you don't have a script, you will have to look for authors and provide them with a guideline to develop the contents you need.
In some cases, you will have to rely on different author profiles. Developing content for a conventional course is not the same as developing a gamification dynamic or a script for a recording that requires actors. They are different resources that require different approaches.
At this stage, the figure of the Instructional designer or the Curator of didactic content is key. It's an underappreciated figure, but key to ensure a training project succeeds.

eLearning Course Creation – Where and How
In the objectives you have already defined where you want to show and create the training content.
Depending on what you've chose, we can design different dynamics and add different resources.
Every tool has its advantages and disadvantages. Let's see some solutions (there are hundreds)

Video channel (only for audiovisual content): Youtube o Vimeo are the most common options, although nowadays there are training channels on Instagram or Twitch.
Self-contained environments that work comprehensively (user management, content, results…).  This would be the case of Snackson (microlearning) or Kahoot!, among others. It's also possible to create training environments in WordPress or Drupal.
Full development solutions. These tools are common among industry professionals.

Storyline
Lectora
Exelearning
Spring
Adobe Captivate

Custom. Although it is becoming less common, there are still developers who use their own content development models.
LMS (training environment). Moodle, Canvas o Totara allow to create different types of interactive content directly on the platform.

At this stage it is important to have experts in the tool we are going to use, so that they can help us exploit resources to the maximum. If you are interested in using Storyline, we recommend our friends at Designtraining. 
eLearning Course Creation – Proofreading
Spelling and typographical correction is performed after the customer validates the script and before developing the graphic resources.
Figure at this stage: Proofreaders.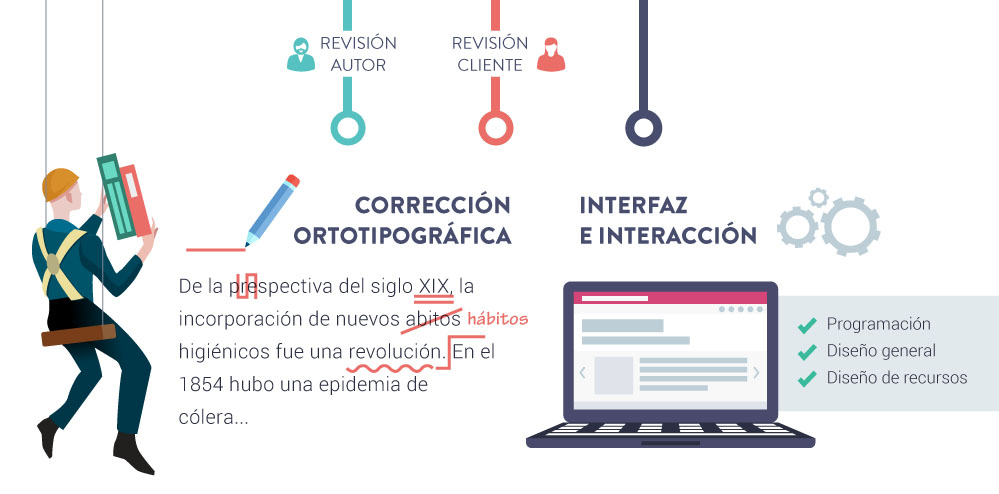 Interface, Design and Audiovisual Resources
Linked to all previous points, we have to consider:

Interface. How we will interact with the content, with what design, icons, navigation, menus… Sometimes the software will condition us or leave us without options to change this layer.
Graphic resources. Images, static artwork…
Audiovisual contents. Animations, concepts, scenarios, with dialogues, with voice-over, with effects… You can develop them in video directly (Premiere, Final Cut) or through complex animation creation tools. Content development comes into play here, through Eddpuzzle or other similar solutions.
Interaction. Scenario dynamics, points, avatars, rankings, levels, shortcuts, awards… This layer is usually conditioned by the tools we choose.

This is the stage where designers, illustrators, animators, recording personnel, interaction programmers, gamification experts… are incorporated.
eLearning Course Creation – Material Review / Interactions
During the whole process, the client receives the different stages of the process to validate the script, the graphic style, etc. When finishing the first version of the content, we request a comprehensive review, to check that everything is correct. For example, we test that it works correctly with the client's equipment (to avoid surprises).
At this stage, testing is usually involved. It's usually someone with experience in contents and the final platform, but who has not been part in the day-to-day life of the project, in order to get a clean view of it.

eLearning Course Creation – Translation
At the end of the project, it should be translated or exported to other formats if required by the client.
Infographic
As you have seen, there are many stages in a project to create elearning courses, and a lot of work and many different and specialized profiles are involved.
It's an editorial process that guarantees that the final result meets the client's needs and that the objectives are met.