When we talk about microlearning we generally have in mind its definition, but there is a series of questions that are very useful: how is microlearning presented? In what format? Is this content microlearning?
Microlerning is a strategy consisting on learning from microcontents (micromedia). We consume this kind of contents day to day in an unconscious way, without stopping to value their potential or the impact that it can have in our learning.
Let's see a list of 10 examples that constitute a great demonstration of microlearning:
Recipes
In the YouTube channel Las recetas de MJ (MJ's recipes) its author shares cooking videos. It combines detailed videos with others that are quicker to see. For example:
On this video ingredients become particularly important: there is no narration or explicit explanation of the process. Each step in a recipe is shown just a few seconds.
It makes sense. If we think about the audience of a channel consisting only in recipes, we will realize that the public is people who like cooking. Therefore, they already know how to mix, sift the flour, etc. The video is focused in what these people really need: ingredients and steps..
Schemes, graphics or diagrams
This is the main resource of any student. When you need to memorize information or to have a global vision of some process, you express it with an image.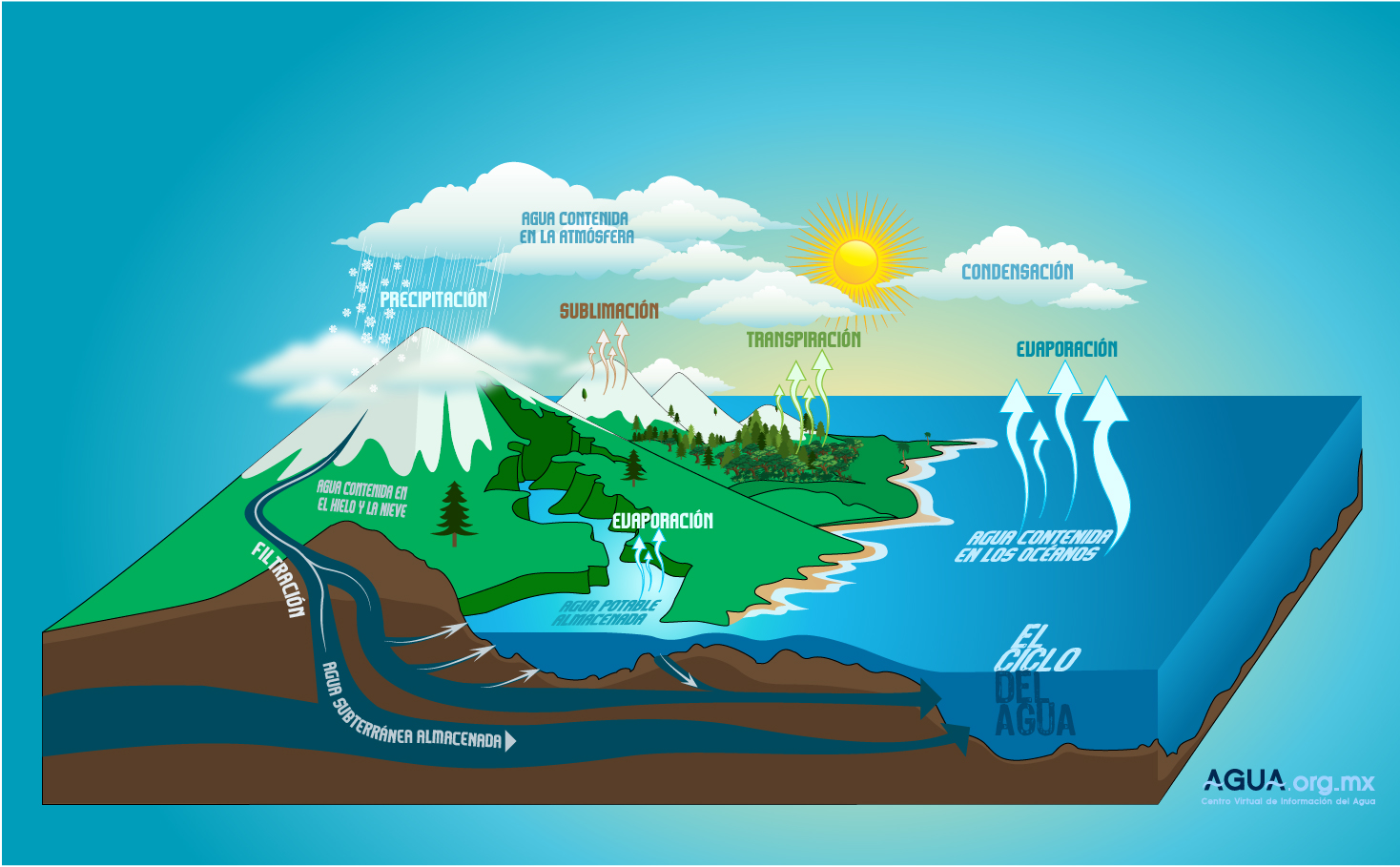 Try to explain the water cycle in plain text and you'll see the potential of this kind of resource.
Ilustrations
When it comes to understanding complex concepts or concepts that are completely new for somebody, the best thing to do is to look for relationships. Links with other knowledge that you already have.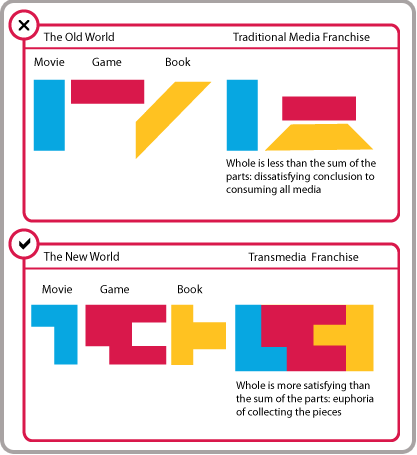 It is what Robert Pratten used to explain what transmedia narrative is. You only need a few geometric shapes to establish a clear analogy: different elements that fit together and make a whole.
Infographics
Have you ever thought that infographics are microcontent? Maybe you haven't, but if these visual representations are so powerful is precisely because of its micro format.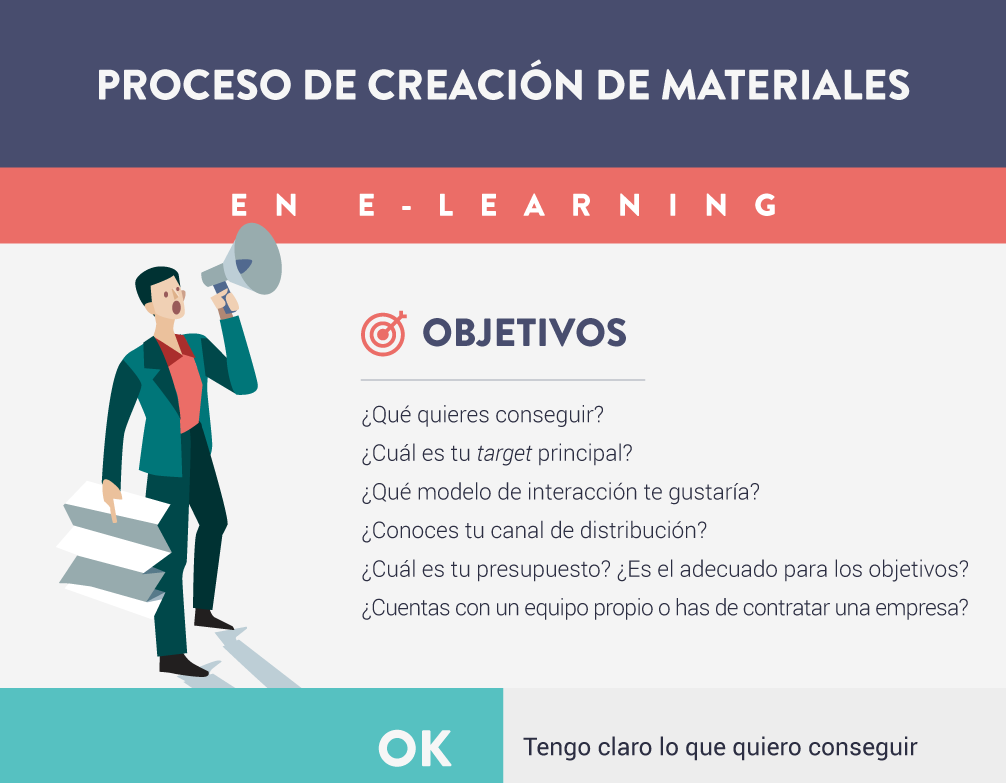 This infographic made by our colleagues from Factorsim shows the whole creation process of training materials from the stage of conceptualization until publishing. Herein lays its potential: in a short period of time we can understand and obtain a global vision of a complete workflow in which different processes intervene.
Microvideos
Videos are becoming more and more important in the last years. If there is something that has been proved with the growth of YouTube is that we don't focus our interest in long videos. We switch from one video to another until we find something that seems interesting to us or that attracts our attention. If the video is slow, we immediately go to a different one. With this in mind, content creators have learnt to produce videos with just a few seconds of length but with a great visual power. One example could be this video made by Oreo:
Though this kind of videos are focused on promotion and marketing, they are a good example that shows the growing tendency towards micromedia. Platforms as Vine or Instagram have cleverly taken advantage of its potential, focusing their services to the spread of this kind of content.
We love Vine videos by Lowes too. They show microlearning objectives very efficiently. They consist of small tips for constructing and improving a household in videos that last less than 6 seconds.
Storytelling
It puts users in a story that they understand, that is very likely to their day-to-day, by using analogies, comparisons that reinforce the message and that aid in the understanding.  This video was created by Blue Seat Studios and it uses everyday situations that revolve around a tea cup, and extrapolates them to a subject that is not easy to explain: consent in sexual relations. Moreover, thanks to this analogy, they can explain it in a clear and direct way.
Freedom Tower Elevator
Not every content is seen through mobile devices, contextual information has a great value. The next example that we provide, shows in an evident way how the snack format can be shown in multiple ways. This elevator is in New York's Freedom Tower, and in the 47 seconds that lasts its lift you can go all over the city's history. An example of Situated learning, and unexpected for most users. Isn't exciting to learn in informal contexts?
History in facts
Speaking of non-formal learning, we could not leave the opportunity to talk about Twitter. The use that we give to this service is as vast as the imagination of people who use it. We can see how hashtags are used in formal training classes; people share and collaborate with persons who are thousands of miles away. It is undeniable that Twitter is a huge communication channel and the great referent when we talk about microcontents.  Its limitation of 140 characters makes us to exercise our synthesis ability as never before. @HistoryinFacts is an exemplary user of this.  Each tweet summarizes relevant moments of history in a few letters and with one only picture.  Pure Microlearning!
After 14 years and 27 deaths during construction, the Brooklyn Bridge is opened on this day in 1883. pic.twitter.com/HSGNzEeajR — History In Facts (@HistoryInFacts) 25th May, 2015
TED
TED is an organization that plans and broadcasts talks and lectures about a wide range of topics. In addition to the great job they make by sharing content of a great quality and interest, they also make a herculean task of translation and production.
Since TED App was launched, timing (usually they make videos about 15min. long) became a very important element to keep into account. Talks with a length of 6 minutes or less started to emerge. They keep all the essence and allow to users to see them in almost any situation (while waiting for the metro, at the doctor's waiting room…). The web version also allows filtering by duration so that you can access this content in a much agile way.
---
Post translated by Carolina Serna